Your Guide to Workplace Rights in New York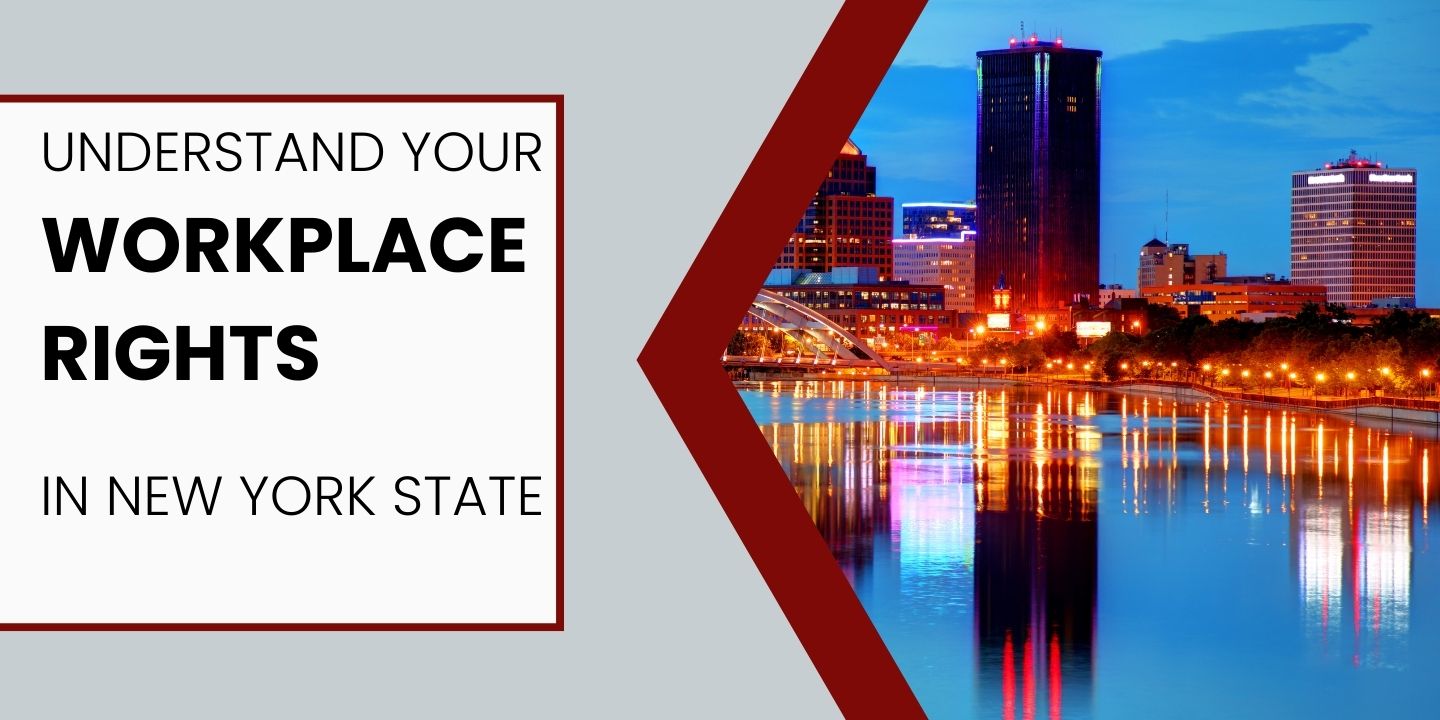 New York State has the distinction of being the first state in the nation to enact a Human Rights Law.  In doing so, New York also became the first state to establish a permanent agency to enforce such legislation. This law prohibits discrimination in employment, housing, credit, places of public accommodations, and non-sectarian educational institutions, based on age, race, national origin, sex, sexual orientation, marital status, disability, military status, and other specified classes.
How do I File a Complaint with the New York State Division of Human Rights in Rochester, New York?
You may file a state claim of workplace discrimination, harassment and/or retaliation up to one year after the most recent alleged incident occurred by contacting the New York State Division of Human Rights and explaining your case.
How do I contact the New York State Division of Human Rights in Rochester, New York?
The New York State Division of Human Rights has an office in Rochester, New York located at
One Monroe Square,
259 Monroe Ave., Suite 308
Rochester, New York 14607

You can call the Rochester, New York office at (585) 238-8250, visit their website: http://www.dhr.ny.gov/
You can also email the Rochester, New York Office at: InfoRochester@dhr.ny.gov 


What If I Do Not Speak Fluent English?
The New York State Division of Human Right provides free languages service by calling1-888-392-3644.
What If I Have Problems Accessing Documents?
Division of Human Rights' documents are available in alternative format upon request.  Complaint forms in Braille are also available upon request.  If you have any problems accessing the documents published on this website or any other questions regarding accessibility, or need for reasonable accommodation please contact the NYS Division of Human Rights ADA Coordinator:
Director, Disability Rights
NYS Division of Human Rights
One Fordham Plaza, Fourth Floor
Bronx, NY 10458
Voice: 718-741-8332
TTY: 718-741-8300
e-mail: jherrion@dhr.ny.gov
Who Do I File My New York State Division of Human Rights Against?
You may file a claim against your employer if it was aware of the discrimination but did nothing about it, or if it actively participated in the discrimination, harassment or retaliation against you. Additionally, you may bring claims against individual co-workers who subjected you to the discrimination, harassment and/or retaliation.
When I File a Claim with the New York State Division of Human Rights, What is Expected of Me?
It is expected that you have all the names, titles, addresses, and phone numbers of the persons who you feel have discriminated, harassed and retaliated against you. Also, provide any documentation of such discrimination, harassment and retaliation and, if possible, any information on witnesses or individuals who might be able to provide evidence of your discrimination claim.
How Long Will the Process Take?
After filing a claim with the Division, it will attempt to negotiate or reconcile with your employer within 180 days. Unfortunately, the process of filing a claim and being awarded the damages you feel you are entitled to is not always an easy or quick process.
Do I Need an Attorney?
It is not necessary to hire an attorney if you file a claim with the New York State Division of Human Rights. However, you may hire an attorney outside of the Division should you choose to do so.
Where Do I Find an Attorney?
It is not necessary to contact a lawyer if you choose to file a claim through the New York State Division of Human Rights. However, if you would like to seek outside legal help, the Division may be able to locate a lawyer for you.
Who Will Investigate My Complaint?
If you choose to file with the Division, an investigator will respond to your claim by performing fact-finding measures. The investigator will use the evidence gathered in the investigation to determine whether there is appropriate jurisdiction and sufficient probable cause to continue with your claim.
What Happens After I File My Complaint?
After the filing of your complaint, the Division will promptly serve a copy on the employer and all persons it deems to be necessary parties and make prompt investigation in connection to the complaint.  The Division will determine whether it has jurisdiction and, if so, whether there is probable cause to believe that the employer has engaged in or is engaging in an unlawful discriminatory practice.
What Happens if the Investigators Determine that No Probable Cause Exists?
If the Division finds no probable cause on your claim, it only means that it will not assist you with your claim. By no means are you barred from bringing a claim against your employer, but you must seek outside assistance. If you feel like you have been harassed or discriminated against at work but the Division believes otherwise, don't be discouraged. Contact a lawyer familiar with employment law and explain your case to him or her. You may appeal to the State Supreme Court within 60 days after a finding of no probable cause by the Division.
What happens if the investigator determines that "reasonable" or "probable" cause exists on which to base a claim?
If probable cause is found, the Division will notify you and the employer of the time and place of a public hearing. A successful conciliation or public hearing between you and the employer can serve as the means through which you may be entitled to relief (compensatory damages, back pay, front pay, reinstatement). If the administrative law judge finds that discrimination occurred, the employer will most likely also be required to stop its discriminatory behavior.
Can I File a Federal Claim of Employment Discrimination as Well?
At your request, and assuming you meet the minimum requirements of federal coverage (i.e. your employer employs at least fifteen employees), the Division will send the Equal Employment Opportunity Commission (EEOC) a copy of your complaint. By notifying the EEOC of the alleged discrimination, you are entitled to bring a federal claim of employment discrimination under Title VII of the 1964 Civil Rights Act. vTo qualify for federal protection under Title VII, your employer must have at least 15 employees, compared to 4 under New York law.
Often times I meet with clients who believe they have not been paid properly. Employees in New York are eligible to file claims against their current or former employers if they believe they are owed wages. The following section will deal with some of the frequent questions that clients have about filing a claim for unpaid wages. As always this website is not a substitute for legal advice rather it is meant as a starting point in helping to inform New York employees of their workplace rights. For legal advice tailored to your situation you should seriously consider meeting with an employment attorney who is experienced in representing employees in New York.
How does an employee in Rochester, New York file a wage/hour or labor standards claim?
If you believe your current or former employer owes you wages you can file a claim with the New York State Department of Labor.  The Labor Department will investigate your claim and attempt to help you collect your wages. If that is unsuccessful, the Department can bring a court case on your behalf to recover the wages you are owed.
Does it cost anything to file a complaint?
There are no charges to file a complaint or for the New York State Department of Labor to conduct an investigation. The Department of Labor is a state agency and does not charge employees for its services.
What if workers at my job don't speak English?
Some of the New York Labor Department staff are fluent in many languages. The Labor Department also has available a language interpretive service which can assist with translation in many languages.
Are there deadlines?
Do not delay in contacting the New York State Department of Labor to file a claim. There are strict time limits in which charges of wage-and-hour violations must be filed. It is not clear if there is a time deadline for filing a wage claim form with the Department of Labor, although the Department has six years within which to bring a legal action on your behalf. However, as you might have other legal claims with shorter deadlines, do not wait to file your claim until your time limit is close to expiring. You may wish to consult with an attorney prior to filing your claim, if possible. Yet if you are unable to find an attorney who will assist you, it is not necessary to have an attorney to file your claim with the Department.
How can I or my attorney pursue a claim in court in New York?
Instead of filing a claim with the New York State Department of Labor, you can file a claim in state court for unpaid wages as well. If you win your case, the court can award you the wages you are owed, an additional 100% (if the violation was willful), attorneys' fees, and litigation costs. The statute of limitations for bringing such a case is six years.
Labor Department Contact Information
You can e-mail the Labor Standards Division of the New York State Department of Labor at LSAsk@labor.state.ny.us.
The Rochester district office of the New York State Department of Labor
109 South Union Street -Rochester, NY 14607
Tel. (585) 258-4550
Fax (585) 258-4556
Common Question Regarding Unemployment Benefits
My clients regularly have questions regarding their eligibility for unemployment benefits. Fortunately the New York State Department has a great website that answer many of the most common questions https://www.labor.ny.gov/unemploymentassistance.shtm The following are some of the routine questions that many folks have when learning about the process for filing for unemployment benefits.
When should you file for unemployment benefits?
I tell clients to file their claim quickly, in the first week they lose their job because you must wait one full week before you receive payments. A delay in filing may cost you benefits.
How do you file for unemployment benefits?
You can file on-line or via telephone. On-Line The Department of Labor recommends filing for unemployment benefits online. Sign in with your NY.GOV ID and follow the instructions to file a claim. You may file your claim:
Monday – Thursday from 7:30 am to 7:30 pm (Eastern Time)
Friday from 7:30 am to 5:00 pm
Saturday – all day
Sunday until 7 pm
Phone Service
You can also call toll-free during business hours to file a claim:
1-888-209-8124 (8 am to 5 pm, Monday – Friday)
If you file by phone, the Department of Labor offers translation services for a number of the most common foreign languages and provides assistance for the hearing impaired.
What do you need to file your unemployment benefits claim:
Your Social Security number
Your driver license or Motor Vehicle ID card number (if you have either one)
Your complete mailing address and zip code
A phone number where we can reach you from 8 am – 5 pm, Monday –Friday
Your Alien Registration card number (if you are not a U.S. Citizen and have a card)
Names and addresses of all your employers for the last 18 months, including those in other states
Employer Registration number or Federal Employer Identification Number (FEIN) of your most recent employer (FEIN is on your W-2 forms)
Your copies of forms SF8 and SF50, if you were a federal employee
Your most recent separation form (DD 214), for military service
According to the Department of Labor you can file a claim for unemployment benefits without all of these documents. However, missing information can delay your first payment.
What if I have questions about filing my claim for unemployment benefits?
The Department of Labor provides free, impartial and confidential service to help claimants understand their rights and responsibilities. To contact an advocate you can email them at UIClaimantAdvocateOffice@labor.ny.gov or call the advocate at (855) 528-5618.
What are my responsibilities once I have been approved for unemployment benefits?
Remember you need to be actively looking for work while claiming unemployment insurance benefits. It is important to keep a record of your work search for each week that you claim benefits.
What kind of work must I accept when I'm receiving unemployment benefits?
You must accept "suitable" work while you collect benefits. Suitable work is work that you can reasonably do through your past training and experience. This means that you have to look for work in all your most recent occupations, especially if the chance of getting work in your primary skill area is not good. After you have claimed 10 full weeks of benefits (13 weeks for claims filed on or before 01/01/2014), suitable work also includes:
Any work that you can do, even if you have no experience or training in such work; unless you are hired through a union hiring hall or have a definite date to return to work.
Such work must pay at least 80% of your high-quarter base-period wages. Any work offered must pay the prevailing wage for such work.
You must also be willing to travel a reasonable distance to get work. As a rule, we consider a reasonable distance to be travel of:

One hour by private transportation or
One and one half hours by public transportation.